Antena Para Exteriores Bidirecional 14dbi Tew-ao14d
Descripción:
Antena totalmente nueva sin usar.
14dBi Outdoor High Gain Directional Antenna TEW-AO14D (Version 2.0R) Provides high performance long distance connections for your wireless network Compatible with wireless b, g and n standards Ensure protection from lightning strikes with TRENDnet's TEW-ASAK Outdoor Arrestor Kit Includes mounting kit Compatible with TEW-739APBO, requires TEW-L412 / TEW-L406 and TEW-ASAL1
TEW-AO14D Outdoor Directional Antenna provides long distance point-to-point connectivity for your wireless network. As an optional antenna for your IEEE 802.11b/g 2.4GHz wireless network equipment, you can install it outdoor for long distance point-to-point connections. Enjoy the benefits of wireless connectivity at greater distances and throughput throughout your outdoor wireless zone.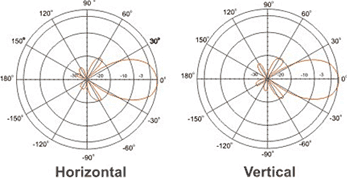 Compatible with2.4GHz 802.11b/g wireless devices

Weatherproof housing suitable for indoor and outdoor applications

Adjustable mount for optimal orientation and performance

Ideal for point-to-point bridge connections between buildings/zones

Delivers extended access point range in expansive single floor environments

Higher power output extends transmission range through low dB loss materials (plywood/plasterboard) used in typical floor and wall construction*

Enhances wireless range and improves signal transmission and reception

Boosts standard antenna power from a meager 2dBi to a respectable 14dBi

Easy-to-install wall and pole mounting.

3-year limited warranty
* This dBi gain does not factor cable loss. Performance estimations are for typical use; range will vary with site conditions
** Due to the bisymmetrical nature of WiFi, the client segment may also require a high gain antenna
*** Note: For optimal results in extending your wireless range with wireless antenna installations, we recommend that you consult a professional installer for site survey, safety precautions, and proper installation